Take a deep breath. Hold it. Exhale.
Garrett's story
For his first 15 months on this planet, Garrett Owens—a sweet, lovable, rosy-cheeked little boy from Herndon, Virginia—was unable to do something as simple as taking a deep breath. In fact, for most of his little life, Garrett has been struggling to breathe.
Garrett Wesley Owens was born on Wednesday, December 28, 2005, to the delight of his parents, Chris and Deborah (Brickey) Owens, and his big brother, Liam. And although he often suffered from bronchiolitis as an infant, and was on the path to being diagnosed with asthma, Garrett otherwise seemed healthy. That was until December 2006 when Garrett came down with what at first seemed to be a common cold, but quickly escalated into a dangerously-high, 105 degree fever and difficulty breathing. He was quickly rushed to a local hospital in Reston, VA, where he tested positive for Respiratory Syncytial Virus (RSV)—a major cause of respiratory illness in young children that affects the lungs and breathing passages—and pneumonia. At worst, doctors assumed that Garrett would continue to improve and fully recover within 3-4 weeks. But that didn't happen.
Garret's oxygen saturation level continued to drop and the decision was made to airlift him to the pediatric intensive care unit at Inova Fairfax Hospital. Garrett spent the next several weeks—including his first birthday—in and out of the ICU, sedated, on oxygen, pumped full of antibiotics, steroids and others medications, with his tiny arms confined in "No-No" restraints (to prevent him from pulling out his multiple IVs). But, nothing seemed to work. Garrett's condition continued to deteriorate and his doctors, frustrated, perplexed and fearing the worst, conferred with their colleagues at Johns Hopkins Hospital in Baltimore, where Garrett was subsequently transferred for evaluation and a lung biopsy.
His only hope for survival.
Once again, Garrett developed a dangerously-high fever, but this time it was even worse. He also experienced single-system organ failure. In his case, that meant the inability of his lungs to provide sufficient oxygen to his body and to pass carbon dioxide out of his system. And, he was also diagnosed with the more-virulent strep pneumonia, Haemophilus influenzae (H Flu) and a series of other infections. Weeks turned into months as doctors worked diligently to address the infections and stabilize him. But, again, nothing worked. The Hopkins doctors ultimately determined that Garrett was suffering from bronchiolitis obliterans—an extremely rare condition that prevented his body from fighting infections and, more ominously, attacked his own lung tissue.
In late March 2007, it was determined that a double lung transplant, was Garrett's only hope for survival.
The move to St. Louis Children's Hospital
On Monday, April 16th, Garrett was transferred, via medical jet, from Johns Hopkins to St. Louis Children's Hospital—a world-renowned treatment facility known for its expertise in pediatric organ transplants. But a move was risky for Garrett, because it meant he would have to spend several hours outside of a closely-monitored ICU. But, after a nerve-wracking couple of hours in the air, Garrett made it safely to Children's.
A miracle
The first few days were excruciating for Chris and Deborah, while they waited to find out if Children's concurred with the Hopkins team that Garrett was indeed a viable transplant candidate. But they didn't have to wait long. On Friday afternoon, April 20th, at 5:03 pm CT, just days after his arrival in St. Louis, Garrett Owens became one of the youngest children in the United States to be listed for a lung transplant. And, the good news just kept coming.
On the following Monday, a stunned Chris and Deborah received word that a pair of donor lungs had become available. And in a whirlwind of a few short hours, Garrett was prepped, taken into surgery and received a full lung transplant—all in 6 hours!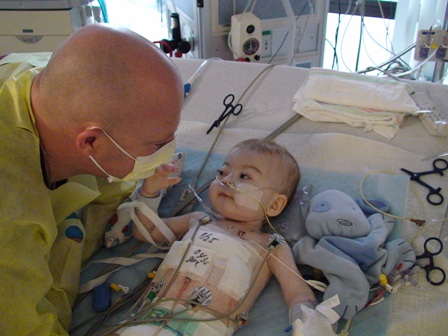 Garrett & Daddy, 2 days after transplant

Now, what?
Prior to his transplant, Garrett was among 9 children in the 1-5 years age group across the United States awaiting a lung transplant. And, even though the surgery was a success and initial indications for recovery look good, Garrett's situation is far from over.

Organ transplant isn't as simple as removing one organ and replacing it with another. The challenge is getting the body to accept a donor organ. This requires anti-rejection medication—a lifetime's supply of it. In addition, Chris, Deborah and Garret's four-year old brother, Liam, had to relocate to St. Louis for seven months for Garrett's rehabilitation and recovery.
The costs and how you can help
The costs associated with Garrett's transplant, even with the benefit of insurance coverage, are astronomical and have exceeded $150,000. The costs of Garrett's anti-rejection medications, continued medical care, and regular trips back to St. Louis for follow-up will cost in excess of $10,000 - annually - for the rest of his life. Not to mention the costs from relocating to St. Louis for the bulk of 2007 that the family is still paying. All of these costs are far more than the Owens family can bear.
Our goal is to help the Owens family raise the money to pay for all of the medical costs associated with his transplant, cover his drug costs and draw national attention to Garrett's plight and those of other children nationwide awaiting transplant.
Please help us help Chris, Deborah, Liam and especially Garrett all breathe a little easier. Donate whatever you can HERE. Every penny helps.
Garrett, November 24, 2007